FM Approved Fire Protection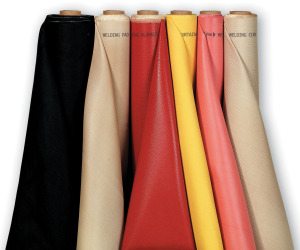 AMI's welding fabrics have been tested and rated to the ANSI/FM 4950 Standard that now is required by the NFPA 51B 2019 Standard. The rating system makes it easy to determine which of the three levels of fire protection – welding curtains, welding blankets, or welding pads – is needed for a specific hot work operation.
Why FM Approved Fabrics for Welding Safety?
Welding fabrics that carry the FM Approval label go through rigorous performance-based testing that replicates real-world hot work situations.
Using temperature resistance as the only performance criteria alone is risky.
Selection of hot work fabrics should match the application, such as for outdoor use, not for enclosed spaces, for vertical or horizontal use, grinding vs. molten materials, etc.
Auditing by third-party certifiers reduces the risk throughout the entire supply chain: end-user, contractor, distributor, and manufacturer.
AMI Leaves No Room for Doubt  
Today's military, U.S. Government, industry and NRC standards all call for certified FM Approved welding curtains, blankets and pads to be used in their facilities. AMI prominently labels their products down to the core—meaning you will find the FM Approved label on the outside packaging, printed along with the performance category on the product and on the inner cardboard core of every welding fabric. View our Certified to the Core labeling.
Many of our fabrics are available as curtains, pads, or blankets, with or without grommets, custom sewn to fit your specific needs, or in standard sizes. Grommets are placed 18″ on center on all four sides. Standard thread is PTFE-coated fiberglass. Standard sizes for fabricated items are: 3′x3′, 6′x6′, 6′x8′ and 10′x10′.
All 4 results for "FM Approved Fire Protection"