Auburn Manufacturing, Inc. (AMI) is an industry leader in the manufacture of advanced textiles for extreme-heat environments. We also make flexible barriers, modular insulation kits, reflective aluminized fabrics, and fabrics enhanced with coatings to resist oil, moisture, and abrasion.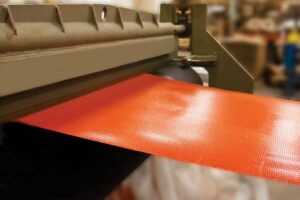 AMI is #1 in hot work safety fabrics.  We were first to adopt performance-based, third-party testing of such materials, which improved fire safety during hot work —  like welding in critical industries such as ship building and repair, petroleum refining, and power generation, including nuclear. By having over 20 of our fabrics tested and FM Approved, we led the market in changing to this safer, ratings-based system! And because of our ability to make composites, we have the ability to make new products like our 3-in-1 Curtain-Blanket-Pad Fire Quilt™!
"Innovation on Fire" We live this tagline! We began making safe substitutes for asbestos textiles in 1979. Since then, we've continued to improve upon what's available in the realm of heat-resistant textiles.  We continually learn from our customers and from our industry involvement with safety- and industry-related organizations.  From the National Fire Protection Association (NFPA) to Advanced Functional Fabrics of America (AFFOA), we've learned to collaborate with other industry leaders, resulting in a deeper dive into innovation.
Quality is the #1 reason customers buy from AMI — survey says!  We're proud of that because we work hard to make products that live up to stringent industry and military specifications.  We're committed to continuous improvement in everything we do as a US manufacturer.  Our ISO 9001:2015 certification is available for download here.
We sell to the World!  Although we're a small US manufacturer, we sell our products to over 30 countries worldwide.  Exporting is an extremely important part of our business and we welcome the opportunity for new relationships wherever our products are needed.  This website enables potential customers from anywhere in the world to learn about typical applications, product forms and specifications.
Thanks to technology, we're able to reach out from our two plants in Maine, the northernmost New England state.  We love our location in south-central Maine because of its strong tradition of textile making combined with an experienced workforce.  Plus, it's a great place to live — we're only a 40 min. drive from Portland (a foodie's paradise), 30 min. from L.L. Bean in Freeport, 2.5 hours from Boston and 4 hours from Montreal!  So when we get tired of the rural beauty of our area, we can get away and enjoy a more urban experience.  But it's always nice to get back to Maine — known as a small town with a lot of really long roads!
Let's get started! 
Step 1:  Our Product Selection Guide is a good way to get introduced to which of our products are used where and when in industrial maintenance, repair and operations.
Step 2:  Our online data sheets can help you determine which product will best fit your needs.  Same with Safety Data Sheets.
Step 3:  Fill out an online contact form with sample/price requests.
Step 4:  For more information, contact our knowledgeable customer service representatives by email or phone.  Our CSRs have the experience and technical resources  to assist you in selecting precisely the right product for you, as well as to determine how to get it to you quickly and easily.   We offer FREE SHIPPING WITH $100.00 MINIMUM throughout the U.S. — it doesn't get much easier than that!