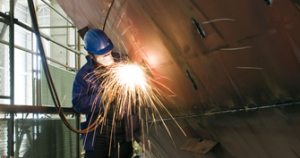 Protection from fire is critical in both shipbuilding and ship repair operations. AMI fabrics protect expensive equipment and surrounding areas in shipyards wherever hot work — welding, cutting, grinding — is performed. AMI has a full line of FM Approved hot work fabrics that are now required by NFPA 51B. Our heat resistant fabrics and fabricated gasketing materials are also used as heat containment on exhaust and heat distribution systems.
MEETING THE STANDARDS
AMI's hot work fabrics meet the highest of government, military and industry standards, many of which are mandated requirements for performing hot work in the shipbuilding industry.
NFPA 51B – Standard for Fire Prevention During Welding, Cutting, and Other Hot Work
API 2009 – Safe Welding, Cutting and Hot Work Practices in the Petroleum and Petrochemical Industries
MIL-C-24576A – Cloth, Silica Glass for Welding and Cutting Operations
MIL-C-20079H – Glass Cloth for Thermal Insulation Components
MIL-I-24244B – Insulation Material with Special Corrosion, Chloride and Fluoride Requirements
USCG164.009 – Test for Incombustibility
NRC 1.36 – Nuclear Regulatory Commission Standard
AWS ANSI Z49 – Safety in Welding, Cutting, and Allied Processes
AMI FM APPROVED FABRICS RECOMMENDED FOR SHIP BUILDING & REPAIR
Welding • Cutting • Brazing • Hot Boxes • Habitats • Covers for Electrical Equipment and More
| RATINGS | PRODUCT CODE | NOMINAL WEIGHT (oz/yd) | THICKNESS (in) | WIDTHS (in) |
| --- | --- | --- | --- | --- |
| Blanket | SAS2400-1 | 29 oz | .047″ | 36″, 60″ |
| Curtain | SGLP3100 | 31 oz | .037″ | 37″, 60″ |
| Curtain | SGL1700 | 17 oz | .016″ | 60″ |
| Curtain | AS1800G | 18 oz | .026″ | 36″, 60″ |
| Curtain | GL2025-9383 | 18 oz | .036″ | 40″, 60″, 72″ |
| Pad | SGLV6001 | 75 oz | .115″ | 40″, 60″ |
| Pad | AS3600 | 36 oz | .054″ | 36″, 60″ |