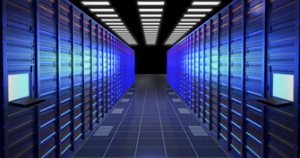 Data center protection is critical business, and fire is one of the most serious risks facing data centers today. Being able to see people in and around data center equipment is as important as protecting the area from extreme heat, sparks and fire. AMI's AMI-TUF® TR, the first translucent, flexible heat barrier for the data protection market that offers see-through 50% light transparency, is cleanable, fire resistant, oil and water resistant and has no added halogens. It provides superior fire, smoke and spark containment and is the ideal replacement for PVC curtains.
IDEAL FOR:
Data Center Protection In Accordance with NFPA 75 &76
Hot & Cold Aisle Containment
Hot Work Containment Enclosures
MEETING THE STANDARDS
AMI's hot work fabrics meet the highest government, military and industry standards, many of which are requirements for the data protection industry.
ASTM E84 – Standard Test Method for Surface Burning Characteristics of Building Materials
NFPA 75 – Standard for the Fire Protection of Information Technology Equipment
RECOMMENDED HOT WORK FABRIC FOR DATA PROTECTION INDUSTRY
| PRODUCT CODE | NOMINAL WEIGHT (oz/yd) | THICKNESS (in) | WIDTHS (in) |
| --- | --- | --- | --- |
| SGL1400 TR | 14 oz | .018″ | 38″, 60″ |