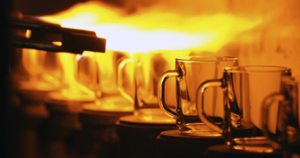 Glass making has extreme temperature processes, and protecting people and equipment from high heat, hot molten glass and sparks is critical. Our AMI-FLEX® heat resistant tapes are made in special thicknesses and roll lengths to protect the glass manufacturing processes and equipment from etching or otherwise damaging plate glass making operations. AMI's Innovation Team is continually working on extreme protection solutions that are durable, comfortable and cost effective.
Let's have a heated discussion about your heat and fire protection requirements.
AMI works with suppliers and manufacturers worldwide to ensure the best possible product performance, design and functionality. We understand textiles, coatings, and composites. Out experts are always looking at ways to combine our yarns and fibers with heat enhancement technologies to meet unique customer requirements.
| PRODUCT NAME | CONTENT | CATEGORY | PRODUCT NUMBER | THICKNESS (in) | WIDTH (in) |
| --- | --- | --- | --- | --- | --- |
| AMI-FLEX | Aramid/fiberglass | Tape | FL04 | .250″ | 1″ – 4″ |
| AMI-FLEX | Aramid/fiberglass | Tape | FL08 | .125″ | 1″ – 5″ |
| AMI-FLEX | Aramid/fiberglass | Tape | FL16 | .060″ | 1″ – 6″ |
| AMI-GLAS | Fiberglass | Tape | GL08 | .125″ | .5″ – 7″ |