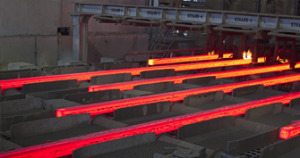 Protecting workers, materials, and equipment is serious business in the metal manufacturing industries. Workers who work with or near molten metal must be protected from metal splashes, sparks and radiant heat. AMI has been a pioneer in the safety apparel/PPE industry for over 35 years. We are continually working on heat resistant fabrics that are safe and comfortable. Our non-abrasive fabrics are widely used throughout industry for heat and molten metal splash protection, and many of our aluminized heat resistant fabrics are treated with special coatings that allow for the easy fabrication of gloves, coats, hoods, boot linings, and aprons and other heavy-duty PPE heat protection
AMI manufactures hot work screens, blankets and curtains for the many types of hot work operations found in metal manufacturing facilities.  Our fabrics are available by the roll so they can be cut and used as needed to  hold heat in or keep heat out of critical operations.
We are continually working on textile and coating solutions that provide extreme heat protection for people and equipment that are safe, durable, flexible, and cost effective.
| PRODUCT NAME | PRODUCT CODE | WEIGHT (oz) | THICKNESS (in) | WIDTH (in) |
| --- | --- | --- | --- | --- |
| AMI-FLEX | AFL1700 | 19 oz | .052″ | 40″, 60″ |
| CARBO-FLEX | AFLPN1500 | 17 oz | .070″ | 40″, 60″ |
| AMI-FLEX | FL1700 | 17 oz | .065″ | 40″, 60″ |
| AMI-FLEX | FL2200 | 22 oz | .080″ | 40″, 60″ |
| CARBO-FLEX | FLPN1500 | 15 oz | .100″ | 40″ |