Essential hot work protection for personnel, equipment, and plants
Our Welding Blankets and Fire Quilt™ Products protect against heat, sparks, and molten metal. If you are not ready to buy, you can order a sample instead.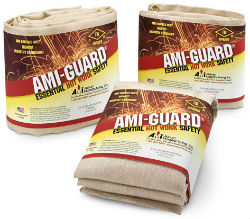 Welding Blanket
Our Welding Blankets have been tested and rated to the ANSI/FM 4950 Standard that now is required by the NFPA 51B 2019 Standard. AMI-GUARD® blankets are recommended for light to moderate spark heat and are available in different sizes. All are sewn with PTFE-coated fiberglass thread.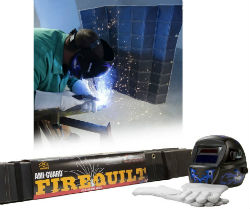 Fire Quilt™
A versatile, 3-in-1 product – it can be used as an FM Approved hot work Pad, Curtain, Blanket. Hang it. Kneel on it. Drape it, or, let it stand on its own. It is reusable and transportable so when you have completed the job, simply fold it and pack it neatly away in your tool chest!
NEW! We now have Welding Blankets and Fire Quilt™ Products for purchase.
Have a look at our catalog.