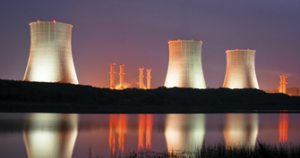 AMI offers a full line of heat resistant textiles for the MRO applications found in the nuclear power generation industry such as high temperature gasketing, insulating tapes for steam lines, heat resistant hose and pipe covering and the most extensive line of FM Approved hot work fabrics.  When safety is critical, nuclear power facilities depend on AMI for approved hot work fabrics where welding, cutting, and grinding is a big part of retrofitting older facilities and building new ones. To reduce the risk of fire during such operations, Federal Regulation 10 CFR 851 requires contractors and subcontractors performing hot work in nuclear facilities to adhere to the highest safety standards, with significant penalties for non-compliance.  Special coated AMI-SIL® fabrics are used extensively in nuclear retrofit projects where hot work operations are extremely dangerous, and where ravel resistance is key in meeting FME programs (Foreign Material Exclusion) to help prevent radiation contamination. Our fabrics are tough enough to walk on while still stopping unintended molten metal slag or sparks from reaching unprotected areas.
MEETING THE STANDARDS
AMI's hot work fabrics meet the highest of government, military and industry standards many of which are mandated requirements for performing hot work in the nuclear power generation industry.
NFPA 51B – Standard for Fire Prevention During Welding, Cutting, and Other Hot Work
MIL-C-24576A – Cloth, Silica Glass for Welding and Cutting Operations
MIL-C-20079H – Glass Cloth for Thermal Insulation Components
MIL-I-24244B – Insulation Material with Special Corrosion, Chloride and Fluoride Requirements
USCG164.009 – Test for Incombustibility
NRC 1.36 – Nuclear Regulatory Commission Standard— (AMI's hot work fabrics are tested and approved for hot work operations on U.S. Navy nuclear components)
US DOE Safety Rule 10 CFR 851 – Worker Safety and Health Program (for DOE and National Nuclear Security Administration)
RECOMMENDED  FM APPROVED HOT WORK FABRICS FOR THE NUCLEAR POWER GENERATION INDUSTRY
| RATINGS | PRODUCT CODE | NOMINAL WEIGHT (oz/yd) | THICKNESS (in) | WIDTHS (in) |
| --- | --- | --- | --- | --- |
| Pad | AS3600               AMI-SIL® | 36 oz | .054″ | 36″, 60″ |
| Blanket | SAS2400-1          AMI-SIL® | 29 oz | .047″ | 36″, 60″ |
| Curtain | SGLP3100           AMI-TUF® | 31 oz | .037″ | 37″, 60″ |
| Curtain | SGL1700             AMI-TUF® | 17 oz | .016″ | 60″ |
| Curtain | SGL1400             AMI-TUF® | 14 oz | .013″ | 38″, 60″ |
| Curtain | GL2025-9383       AMI-GLAS® | 18 oz | .036″ | 40," 60″, 72″ |
| Curtain | AS1800G             AMI-SIL® | 18 oz | .026″ | 36″, 60″ |
| Curtain | AS2400               AMI-SIL® | 24 oz | .040″ | 36″, 60″ |