Fire blankets for welding are essential hot work protection for personnel, equipment, and plants.
Standard Welding Blanket and Curtain Sizes
3'x3′
6'x6′
6'x8′
10'x10′
AMI-GUARD® is the name of AMI's line of high-performance FM approved welding blankets and safety products.  Custom sizes and styles available upon request and with or without grommets. If you are buying the product for resale, we can provide individualized heat-shrink packaging upon request…at no extra charge. We can even supply samples of Hot Work Permits.
Common fabricated blankets are:
AS2400
AS3600
SAS2400
SGL1700
SGL3200
Other Welding Blankets are available as rolled goods in 36″ – 72″ widths and are FM Approved Welding Curtains, Blankets, and Pads. They have been tested and rated to the ANSI/FM 4950 Standard that now is required by the NFPA 51B 2019 Standard. The rating system makes it easy to determine which of the three levels of fire protection – welding curtains, welding blankets, or welding pads – is needed for a specific hot work operation.
Call Customer Service at 1-800-264-6689 or Get a Quote Today!
Fabric Ratings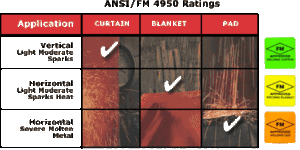 Notice: Hot work permits call for fire-resistant covers or tarpaulins to be used within 35 feet of the job. When using this product, the following precautions must be made:
Sweep floors clean of combustibles
Wet down combustible flooring, cover with damp sand, metal or another shielding
Cover all wall and floor openings
Suspend safety blankets beneath work to collect sparks
Use FM Approved fabrics such as blankets and curtains
Protect the hands with gloves and mitts