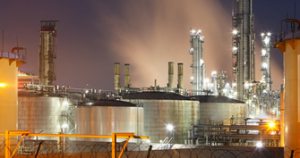 AMI offers a full line of heat resistant textiles for the MRO applications found in the oil and petrochemical industry such as high temperature gasketing, insulating tapes for steam lines, heat resistant hose and pipe covering and the most extensive line of FM Approved hot work fabrics. AMI's certified hot work fabrics are required by NFPA 51B and are used during plant shutdowns and turnarounds to protect adjacent areas from dangerous sparks and molten metal. AMI's heat resistant textiles are used to create welding habitats in offshore drilling operations to safely contain hot work in areas where residual combustible gases could be present.
MEETING THE STANDARDS
AMI's hot work fabrics meet the highest of government, military and industry standards, many of which are mandated requirements for performing hot work in the petroleum refining industry.
NFPA 51B – Standard for Fire Prevention During Welding, Cutting, and Other Hot Work (2009 & 2014 Edition)
API 2009 – Safe Welding, Cutting and Hot Work Practices in the Petroleum and Petrochemical Industries
MIL-C-24576A – Cloth, Silica Glass for Welding and Cutting Operations
MIL-C-20079H – Glass Cloth for Thermal Insulation Components
MIL-DTL-24244D – Insulation Material with Special Corrosion, Chloride and Fluoride Requirements
USCG164.009 – Test for Incombustibility
RECOMMENDED FM APPROVED CONTRACTOR GRADE HOT WORK FABRICS FOR THE OIL & PETROCHEMICAL INDUSTRY