Use as an FM Approved Curtain, Blanket or Pad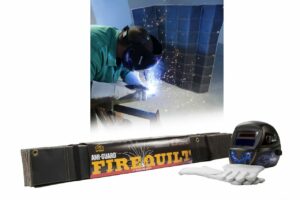 Auburn Manufacturing Inc. (AMI), the leading industry producer of extreme temperature textiles and FM Approved welding curtains, blankets and pads, has added Fire Quilt™ to its AMI-GUARD® line of hot work protection products. This first-ever modular hot work pad can be used as an FM Approved curtain, blanket or pad when welding, grinding, or brazing. Tough enough to stand on, yet soft enough to kneel on, this flexible, hot work barrier delivers increased performance over other traditional silicone glass fabrics in hot work environments.
The versatile 3-in-1 Fire Quilt is a rugged modular composite of fabric and insulation that provides added protection and strength. "You can hang it, kneel on it, drape it or let it stand on its own," said Kathie Leonard, AMI President and CEO. "Each 4' x 4' Fire Quilt comes with grommets on one side for easy hanging for vertical work and is sturdy enough to be used as a self-standing welding screen."
Providing easier-than-ever hot work protection, Fire Quilt is reusable and transportable. "We developed Fire Quilt as a 'ready-to-go, take it to the job site with you' type pad," explained Leonard. "Its modular construction allows it to be easily customized. The double stitched markings make it easy to cut between the lines for custom sized pads. And, when the job is done, Fire Quilt folds and packs away neatly and fits in any tool chest."
Fire Quilt's quilted composite is composed of a fiberglass insulation mat between two layers of fiberglass fabric that is coated with a specially formulated black silicone compound. It repels water, grease and dirt and is approved for all hot work in accordance with NFPA 51B requirements. Compliance with NFPA 51B requires the use FM Approved hot work fabrics. Today's military, U.S. Government, industry and NRC standards all call for certified FM Approved welding curtains, blankets and pads to be used in their facilities.