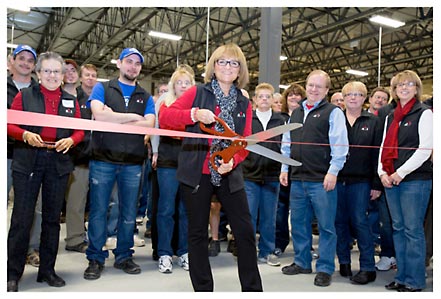 Auburn Manufacturing Inc., a leading developer, manufacturer, and marketer of textile products for extreme temperature industrial applications, recently celebrated the grand opening of the previously announced $1.4 million expansion at its Kitty Hawk manufacturing facility in Auburn, Maine. The 22,500 sq. ft. expansion nearly doubles the size of the facility, allowing the 35-year-old company to optimize its manufacturing processes.
According to president and CEO Kathie Leonard, "The expansion will improve manufacturing capacity, efficiency and quality with new state-of-the-art technology and use of lean manufacturing strategies. Our advanced manufacturing technologies will enable us to make an even better product through the development of the most advanced, safest and high-quality flexible barriers against extreme-temperature challenges."
Expanding the Kitty Hawk facility was a response to growing customer demand and a reliable forecast for that demand to continue. AMI expects to grow more than 30 percent in the next three years. "The expansion not only facilitates our current growth, it also provides the extra space we need for our continued focus on innovation, particularly in the areas of coatings, nanotechnologies, and heat protection enhancements."
AMI's ongoing investment in advanced weaving technologies coupled with its expertise in fibers, yarns, weaves and specialty coatings has resulted in a number of recent product enhancements to its line of Ever Green® R/R insulation covers, including Ever Green® HS for hot service, Ever Green® ET for elevated temperature, and Ever Green® CHW for chilled water systems. Recent additions to AMI's hot work product line include AMI-TUF® TR translucent heat and fire barrier for data center protection, hot and cold aisle containment, and hot work containment enclosures; a line of extreme barrier (EB) composites for heat containment; and an expanded line of extreme temperature tapes and tubing for the pyrotechnics industry.