Structure fires that take lives are heartbreaking, especially when they are caused by something easily preventable. A new article in the recent issue of Safety + Health Magazine recalls the deadly 2014 fire in Boston that was started by welding sparks. Had the workers followed basic hot-work protections, firefighters Michael Kennedy and Edward Walsh would be alive today. That nine-alarm fire injured 18 people in addition to the two deaths. They are just two of the 24 deaths caused by hot-work incidents since 2000. If your company conducts any hot-work activities, it is imperative to set and follow a fire prevention and protection program.

The National Fire Protection Association (NFPA) published its 51B Standard for Fire Prevention During Welding, Cutting, and Other Hot Work; OSHA refers to NFPA 51B in its requirements for hot work. The first step is to develop a thorough hazard assessment specific to the job site, and protect flammable and combustible materials.
Most fire-prevention programs focus on eliminating one or more of the elements that a fire needs: air, fuel, and heat. As this article points out, hot work requires air and heat – the only element you can control is fuel. Shielding it from sparks and flame is a must.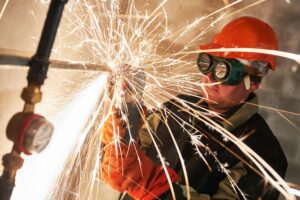 Some hot work can be done in a space specifically outfitted to be fire safe. Other hot work – like the stair railings the Boston workers were welding – has to be done on the job site. We work with many companies to outfit their facilities and their hot-work team with FM-approved welding curtains, welding blankets, and welding pads. Not every job site is the same, so we manufacture 21 different styles of fabric to meet a wide variety of needs.
In addition to the job site, we protect the people with our line of safety apparel and PPE fabrics. We are proud to protect many welders and others on hot-work job sites as well as firefighters and fire safety professionals with our heavy-duty heat protection and industrial safety clothing.
Read the full article to learn more about the hot-work precautions your company can take. And contact us if we can help recommend a solution to protect your team and company, and keep your job sites safe.