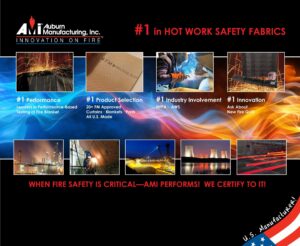 We know that hot work fabrics aren't as exciting to look at as robotic welding equipment!
So we were pleasantly surprised with the number of visitors, and the breadth of job titles. We also met a lot of front-line folks this year, many of whom had never attended Fabtech before. Hats off to those major end-users for sending people who actually work with the products being shown! Their curiosity about our new products was refreshing!
We featured our new modular Fire Quilt, which is FM Approved with the highest rating of "Pad". It's a versatile, one-of a-kind product that caught the eye of craftsmen, technicians, students and a variety of industrial operations.
It was also encouraging to hear folks say they want to buy from a US manufacturer when possible – even those from other countries! They used words like "dependability" and "high quality" to describe what they want from their suppliers.
We came away from Fabtech re-energized about serving our customers and developing new relationships around the world!