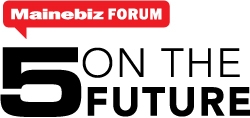 Maine's business newspaper is sponsoring a panel discussion on January 16, 2018 about the state's future economy, and Auburn Manufacturing, Inc.  CEO Kathie Leonard is one of five featured panelists representing a cross-section of businesses throughout the state.  
The event keynote speaker is Jeff Fuhrer, the Executive Vice President and Senior Policy Advisor at the Federal Reserve Bank of Boston. He has been active in economic research for more than three decades, and has served as an associate editor for the "American Economic Review".
The MaineBiz Five on the Future Forum will discuss Maine's future economy and identify leading economic indicators, opportunities, and challenges for Maine's future.
The event is scheduled for January 16, 2018 at 7:30 AM at the Holiday Inn by the Bay. For more information or to purchase tickets, visit the event website.