Auburn Manufacturing is 1 of 2,200 Maine companies that exported nearly $3 billion in goods and services to 168 countries. Each year the Maine International Trade Center (MITC) honors outstanding Maine companies that contribute to expanding the state's economy through their global business connections and successes. This year's award for Exporter of the Year went to Auburn Manufacturing.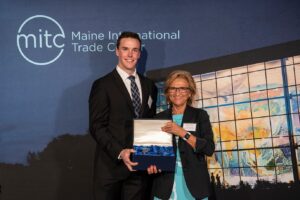 When Kathie Leonard, President and CEO, came to ME in the early 70's, she was hired as a secretary at a textile mill in Lewiston, ME. She took what she learned in that job and eventually, she and a partner opened their own company, to serve a niche market in asbestos replacement materials. Four decades later, Kathie Leonard, sole owner for 20 years, is still leading Auburn Manufacturing and selling products to 38 countries across the globe.
The company has facilities in Mechanic Falls and Auburn, ME. They are a U.S. manufacturer of heat resistant textiles in many forms from fabrics to ropes, woven tapes, blankets, curtains, and pads that can withstand high heat to the point of being fire resistant. With International sales of 25-30%, the company services major industries like oil and steel, shipbuilding/repair, and power generation facilities.
"Embracing change has enabled us to develop new products for new markets all over the world," says Kathie Leonard. "While Auburn Manufacturing isn't the biggest exporter in Maine, we've been in the game for a long time and enjoy the opportunities each new country brings."
Watch Video on AMI's Capabilities and Expertise In Exporting High Temperature Textiles